Over 300 UNIGLOBE professionals joined leading travel suppliers at Imagica for education and recognition of top performers in client service. Travelers will now benefit from exclusive "insider knowledge" of travel products and tools and enhanced "job-specific" skills that result in superior service capabilities.
Themed 'Feel the Power, the 12th Annual UNIGLOBE Regional Conference and Excellence Awards were conducted recently at Imagica in Mumbai, housing Asia's largest theme park. Over 300 UNIGLOBE Travel professionals attended the conference for unparalleled access to industry intelligence over unique sessions and workshops focused on trend forecasts. The three day conference served as the perfect platform for your travel experts to sharpen their skills, network for business and product development to serve you with a renewed sense of power.
UNIGLOBE Travel (South Asia) organizes the conference every year with the objective of promoting professional development and building relationships with key suppliers from across the globe, in an effort to raise the benchmark of services for travelers even higher.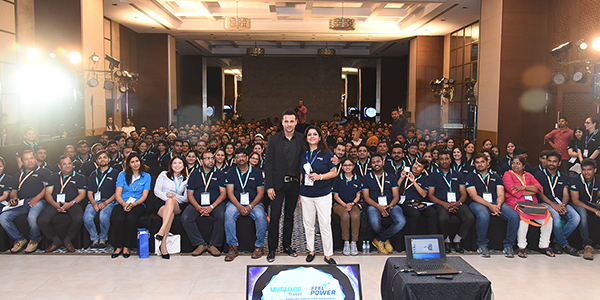 "Our theme for this year, 'Feel the Power', was chosen to inspire UNIGLOBE Travel professionals to feel the power to conquer industry challenges and find new ways of adding value to client relationships through transparency, new-age tools and better use of travel content to tailor options and experiences for travelers," says Ritika Modi, Regional President, UNIGLOBE Travel (South Asia).
A part of this year's star attraction was the keynote session, where Rohit Roy, a highly acclaimed actor, let the attendees in on his 'mantra for success'. They got an inspiring and valuable lesson in realising the power within to its potential to deliver service excellence in a highly competitive industry. An interactive and thought provoking session by Raja Natesan, CEO, UNIGLOBE Travel (South Asia), shed light on how UNIGLOBE professionals can recognise new opportunities to turn them into stepping stones for success for clients. In other sessions, Raja, revealed what it takes to arrive at the most favourable outcome when faced with tough business dilemmas and perform the ultimate balancing act in acquiring power and learning how to use it more effectively as leaders.
Another highlight of the conference was the launch of UKonnect, an end-to-end, networking and collaboration tool that brings over 1500 UNIGLOBE professionals on a single platform to exchange ideas, share knowledge, discuss the latest trends and explore new technology tools, to ultimately serve you better. Also, unveiled at the conference was an improved version of the company's flagship agent booking tool, Complete Access Online, and a preview of upcoming products, including the 'what' and 'how' of the developments on GST.
Top performing experts were rewarded for achieving the organization's highest standards of growth through professionalism and client satisfaction and for continually pushing the benchmark of excellence higher. The awards included recognition for Counselors, Managers, Accounts, Leisure and Facilitation personnel in key areas of client service, professionalism, dependability and productivity – all key elements in effective servicing of UNIGLOBE clients.
"Like every year, the conference has lived up to its promise of offering new perspectives that will undoubtedly make us better travel professionals. Insights from the conference are bound to take our serving capabilities a few notches higher, which will go a long way in adding to our clients' delight," concludes a UNIGLOBE agency owner.
Places we have blogged about