If you want to go away from the hustle bustle of the city and gaze at some Windmills in peace amidst serene surroundings, Zaanse Schans is the place. It took me about half an hour by bus to reach the Zaanse Schans terminal from Amsterdam Central Bus Station.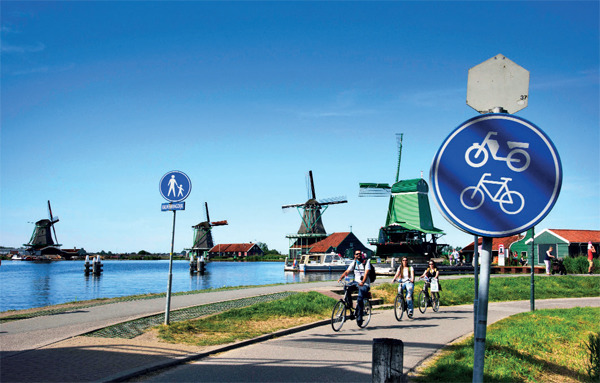 There is an option of a train too which takes almost similar time. First thing that comes after you get down is the Zaans museum where for a Euro 10 entry ticket you can see the models of first windmills, wooden houses and modern factories besides Dutch paintings, costumes and artefacts. The Zaanse Schans region has six more museums for you to explore.

Walking towards the Wind Mills you cross wooden bridges and charming old houses which make the entire setting very picturesque. These houses have beautiful green backyards with duck ponds, where these floating birds make the place more scenic.
Famous French painter Claude Monet was so awestruck by the beauty of this place that he produced 25 paintings here, one of which is also on display in the Zaans museum. The fairy tale like village has very dreamy settings.
Sitting by the Zaan River and gazing at the Wind mills, you get transported to another era. These mills have ground spices, oil, flour or sawn wood for centuries. Make sure you time your visit well as these mills close by 5 P.M. You can also climb up and soak the beautiful views from the deck of these mills. On the other side are endless green meadows where one can just sit and relax looking at the horizon.

Like any other Dutch place, you can rent a bicycle and ride to various parts of the village including wind mills.

If you are hungry, go to the ice-cream parlour or have a pancake. This place is surely worth a day out from the party-hub of Amsterdam and most certainly with your family and kids.

Source: The Economic Times
Places we have blogged about