Hyderabad, 16-18 September: Over 300 UNIGLOBE professionals joined leading travel suppliers in Hyderabad for education and recognition of top performers in client service. Travelers will now benefit from exclusive "insider knowledge" of travel products and tools and enhanced "job-specific" skills that result in superior service capabilities.
Themed 'Master the Change', the 11th Annual UNIGLOBE Regional Conference and Excellence Awards were conducted recently at Ramoji Film City in Hyderabad, the world's largest integrated film city. Over 300 UNIGLOBE Travel professionals attended the conference to gain valuable insights on the changing industry climate, sharpen skills, network for business and product development and celebrate individual and collective achievements.
UNIGLOBE Travel (South Asia) organizes the conference every year with the objective of promoting professional development and building relationships with key suppliers from across the globe, in an effort to raise the benchmark of services for travelers even higher.
"Our theme for this year, 'Master the Change', was chosen to inspire UNIGLOBE Travel professionals to evolve with the changing industry climate and find new ways of adding value to client relationships through transparency, new-age payment tools and better use of travel content to tailor options and experiences for travelers," says Ritika Modi, Regional President, UNIGLOBE Travel (South Asia).
A part of this year's star attraction was the keynote session, 'Live Wire', where Jaaved Jaaferi, one of the most celebrated cinema personalities, let the attendees in on his 'mantra for success'. They got an inspiring and valuable lesson in how planning, hard work and practice could be their key to delivering service excellence in a highly competitive industry.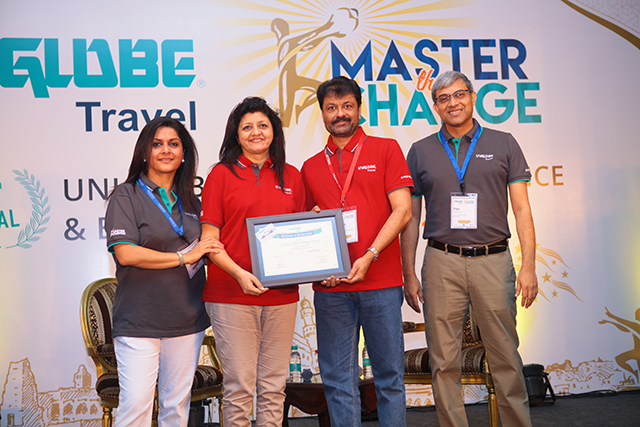 Another highlight of the conference was an interactive and thought provoking session by Raja Natesan, CEO, UNIGLOBE Travel (South Asia), that shed light on how UNIGLOBE professionals could connect big data, augmented reality, and our very own Mahabharat, to turn industry changes into stepping stones for success for their clients. Through experiential sessions conducted by experts, the conference also prepared UNIGLOBE professionals for real and meaningful human encounters and interactions, that would in turn enhance their client servicing capabilities.
Top performing experts were rewarded for achieving the organization's highest standards of growth through professionalism and client satisfaction and for continually pushing the benchmark of excellence higher. The awards included recognition for Counselors, Managers, Accounts, Leisure and Facilitation personnel in key areas of client service, professionalism, dependability and productivity – all key elements in effective servicing of UNIGLOBE clients.
"Like every year, the conference has lived up to its promise of offering new perspectives that will undoubtedly make us better travel professionals. Insights from the conference are bound to take our serving capabilities a few notches higher, which will go a long way in adding to our clients' delight," concludes a UNIGLOBE agency owner.
Places we have blogged about